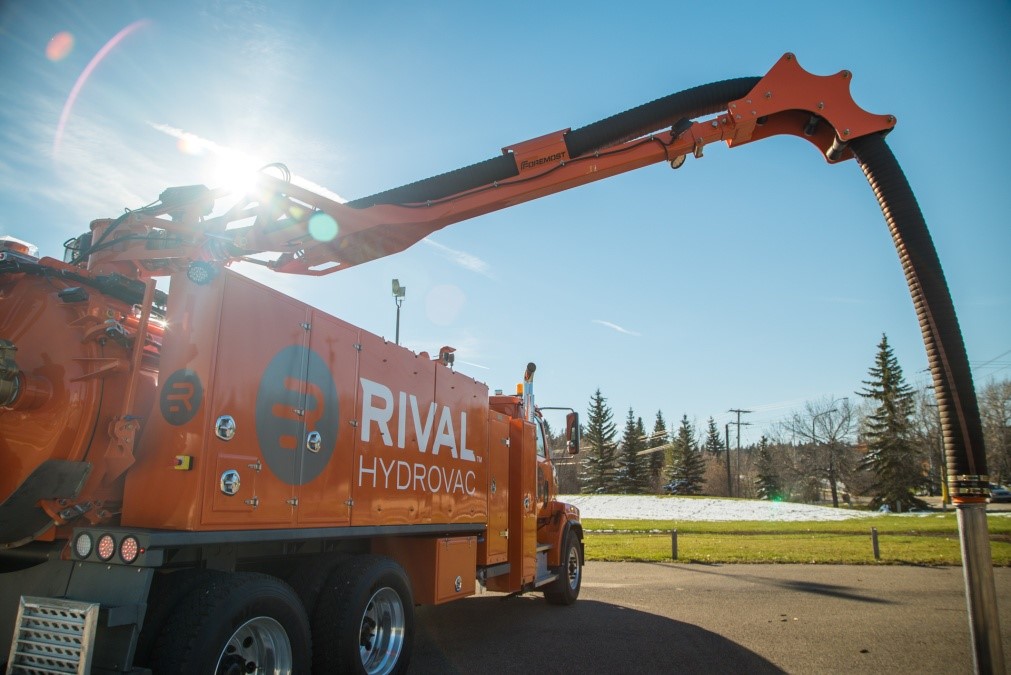 The Rival unit was engineered from the ground up by a seasoned licensed engineer. This process took a full year and over 3000 man hours. Every detail was attended to at a level unusual to these trucks. The end result was an innovative, sleek-looking design.
Full opening rear door with automatic latching system. These latches are unlike anything seen on these trucks. They allow for a full opening door, built to absorb vacuum and pressure without traditional manual wing nut latches.
Fold down rear access ladder with a good size walk way with a retractable railing and engineered tie offs. This provides a safe working area on top of the truck when performing maintenance.
The Rival unit is also equipped with boom safety sensors, an on-board scale, and a rear-mounted grounding post.
The truck will pressure off loads. This means you have two ways to offload. You can hoist the tank and dump through the full opening rear door, or you can actuate the 6" full port boom mounted stainless valve, close off the air to the boom and run the blower in pressure mode forcing flow able loads through one of two heated 6" rear valves. This feature allows controlled offloading into a container, open top, roll off, Rival Trailer, or other contained tank or area. This is a terrific feature. Bear in mind, it will not fully empty the tank; however anything that can flow will leave the tank.
The availability of matching trailer units. Rival can provide the same capacities as the truck but in trailer form. This trailer is a support unit, not a vacuum trailer. This means that the trailer can be pulled by the truck and be used to refill the truck with water and to pressure off into. So when using the trailer, you will have in essence a unit that holds 14 yards and 1400 gallons of water, yet can transport that load legally. In the event of a large job, the truck can remain working on site and the trailer can by shuttled by a secondary vehicle. This would be a way to sell yourself as being able to move the most dirt in a day regardless of the size of the competitive unit because you are not leaving the jobsite. Additionally, when you leave, you are doing so in compliance.